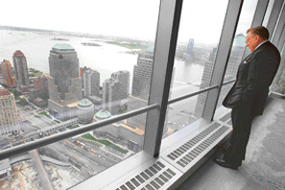 Infowars.net | March 14, 2007
Steve Watson
A major insurance company is holding back from paying Larry Silverstein insurance money he says he is still owed from the destruction of the World Trade Center complex, the question is why?
Reuters is reporting:
Mr Silverstein, who leased the downtown site destroyed on September 11, 2001, claims Allianz still owes him $US553 million ($A708.57 million) and that a second insurer, Britain's Royal & Sun Alliance, owes him $US250 million ($A320.33 million). He said their reluctance had slowed rebuilding at the site.
Silverstein has making a great deal of noise this week out on the streets of Manhattan with a crowd of about 200 cheering construction workers chanting "We're going to make you pay!''
Silverstein has also been comparing his case to that of Gulf Coast homeowners who are suing for claims from Hurricane Katrina in 2005. "You can count on some insurance companies to look for every way they can think of to avoid paying up,'' he is quoted as saying.
The payment dispute arose when Silverstein agreed with New York's Port Authority on terms for the reconstruction of the new Freedom tower in April last year. Under the deal, he was granted permission to build the Freedom Tower but is required to hand it back to the Port Authority after completion.
Silverstein later filed a lawsuit in June, claiming that seven insurers had refused to provide assurances that their obligations to pay were unaffected by the April agreement. Silverstein has claimed that it is this that is holding up redevelopment at ground zero.
Allianz is now the sole remaining insurance carrier that has not affirmed they will pay out
The New York Times reported at the time:
But a lawyer for Allianz, which owes a maximum of $552.5 million at ground zero, said yesterday that the lawsuit was unnecessary, because a legal proceeding was begun nearly five years ago to determine exactly how much money is owed at ground zero under the terms of the insurance policy. He said that Mr. Silverstein was merely seeking a different venue for one of many issues now being debated in federal court.
At the end of two trials in 2004, a federal court decided that the insurers owed a maximum of $4.6 billion, more than the $3.5 billion term of the insurance policy. Silverstein had originally claimed $7 billion, attempting to prove that the crashing of the two planes into two towers constituted two separate events. The two sides have been locked in a grueling appraisal process to determine exactly how much of the $4.6 billion must be paid out.
A spokeswoman for Allianz has said that a mediation process between Mr Silverstein and the German insurer began yesterday. She said she had no further details.
Reuters further reports:
The Allianz spokeswoman said the insurer had already paid almost $US2 billion ($A2.56 billion) in claims from the World Trade Center disaster, settling with all its policy holders except for Silverstein and the Port Authority.
Ms Schwarzer said Allianz has paid Mr Silverstein and the Port Authority almost $US550 million ($A704.72 million) and that the developer had more than enough money in the bank to begin construction at the lower Manhattan site.
Another spokeswoman for Allianz, Andreas Shell, head of the damages department, was quoted by the Financial Times as saying "The reconstruction could start immediately. This is not down to the insurers,"
It now seems that Allianz is being forced to back down as Brooklyn-Queens Democratic Congressman Anthony Weiner has vowed to punish the insurers with fines or operating restrictions if they do not pay up.
Silverstein is determined to rake in every last penny possible from 9/11 and has already secured billions from other insurers without a blink of an eye over the fact that he leased the property just six weeks before the attacks and has since been caught in an admission that he ordered at least one of the buildings, WTC 7, "pulled" on 9/11.
Building 7 occupied a city block immediately north of the World Trade Center complex. Photos taken minutes before its collapse show small fires on two or three floors. Building 7 became only the third steel building in history before or since 9/11 to collapse from fire damage. The other two were the North and South towers of the World Trade Center.
We have thoroughly documented the mystery surrounding the collapse of building 7 , an issue which recently exploded back into the limelight with the revelations that the BBC reported that the building had collapsed up to an hour before it actually fell.
Any building that was not owned by Silverstein Properties that day strangely remained upright, despite being a lot closer to the two towers that collapsed onto them.
Questions about the highly suspicious nature of the building's collapse remained comparatively muted until January 2004, when a PBS documentary, America Rebuilds, originally broadcast in September 2002, received attention across the Internet.
The documentary was made infamous for one comment made by Larry Silverstein on the subject of 9/11. Silverstein states, "I remember getting a call from the, er, fire department commander, telling me that they were not sure they were gonna be able to contain the fire, and I said, "We've had such terrible loss of life, maybe the smartest thing to do is pull it. And they made that decision to pull and we watched the building collapse."
We know that the term 'pull it' means to bring the building down by means of explosives because in the same documentary a cleanup worker (in December 2001) refers to the demolition of WTC Building 6 when he says, "...we're getting ready to pull the building six." The term is industry jargon for planned demolition.
For the following year and a half the Internet and alternative talk radio was aflame with talk of Building 7 and Silverstein's apparent admission. For many it is now the central issue of 9/11.
In January last year we reported that the State Department, as part of its pathetic efforts to debunk 9/11 research, had posted a response from Silverstein's spokesperson Dara McQuillan to the "pull it" saga.
The statement read:
Seven World Trade Center collapsed at 5:20 p.m. on September 11, 2001, after burning for seven hours. There were no casualties, thanks to the heroism of the Fire Department and the work of Silverstein Properties employees who evacuated tenants from the building.
The Federal Emergency Management Agency (FEMA) conducted a thorough investigation of the collapse of all the World Trade Center buildings. The FEMA report concluded that the collapse of Seven World Trade Center was a direct result of fires triggered by debris from the collapse of WTC Tower 1.
In the afternoon of September 11, Mr. Silverstein spoke to the Fire Department Commander on site at Seven World Trade Center. The Commander told Mr. Silverstein that there were several firefighters in the building working to contain the fires. Mr. Silverstein expressed his view that the most important thing was to protect the safety of those firefighters, including, if necessary, to have them withdraw from the building.
Later in the day, the Fire Commander ordered his firefighters out of the building and at 5:20 p.m. the building collapsed. No lives were lost at Seven World Trade Center on September 11, 2001.
As noted above, when Mr. Silverstein was recounting these events for a television documentary he stated, "I said, you know, we've had such terrible loss of life. Maybe the smartest thing to do is to pull it." Mr. McQuillan has stated that by "it," Mr. Silverstein meant the contingent of firefighters remaining in the building.
The insurmountable problem with this explanation of Silverstein's statement is that there were no firefighters inside WTC 7.
Dr. Shyam Sunder, of the National Institutes of Standards and Technology (NIST), which investigated the collapse of WTC 7, is quoted in Popular Mechanics ( 9/11: Debunking the Myths , March, 2005) as saying: "There was no firefighting in WTC 7."
The FEMA report on the collapses, from May, 2002, also says about the WTC 7 collapse: "no manual firefighting operations were taken by FDNY."
And an article by James Glanz in the New York Times on November 29, 2001 says about WTC 7: "By 11:30 a.m., the fire commander in charge of that area, Assistant Chief Frank Fellini, ordered firefighters away from it for safety reasons."
Silverstein's explanation, after two years of stonewalling, that "pull it" meant to withdraw the firefighters is a lie. There were no firefighters in the building for hours before the building's collapse.
Furthermore, even if he did mean "pull the firefighters" then why did he say "pull it", with no reference to anything other than the building? Consider also the timing: "they made that decision to pull and then we watched the building collapse." Could it really be possible that some (nonexistent) fire brigade was removed from the building and just at that moment ("then") the building collapsed? Is there really any doubt here about what Silverstein meant?
The only reasonable conclusion is that Larry Silverstein's statement is an admission that WTC 7 was brought down by a controlled demolition, meaning that the official version of what happened to WTC 7 is false, and casting serious doubt on the official story that terrorists of a foreign origin destroyed the twin towers, as well as on the rest of the official account of 9/11. Note that this admission is a statement against Silverstein's own interests (putting him at odds with the official version of events and potentially jeopardizing his insurance claims). Such statements are given great weight as a matter of law.
In February of 2002 Silverstein Properties won $861 million from Industrial Risk Insurers to rebuild on the site of WTC 7. Silverstein Properties' estimated investment in WTC 7 was $386 million. This building's collapse alone resulted in a profit of about $500 million.
Since then a total of nine insurance companies have continued to pay Silverstein as the legal wrangle continues. The only ones who have resisted in any way have been Allianz.
Interesting it is then that Allianz are also the only insurance company involved to also refer to the Silverstein "pull it" saga.
In May 2005 we carried a report from press release website PR Web which highlighted a proposal by a small shareholder to withhold approval from the Board of Directors for failure to investigate signs of insurance fraud on 9/11 had been published on the website of the Allianz Group in preparation for its May 4th annual meeting.
The report stated:
Allianz Group published a shareholder proposal on April 20th faulting management for ignoring signs of insurance fraud on 9/11/2001. Allianz carried a significant portion of the insurance coverage on the WTC, and stands to pay a corresponding portion of the $3.5 billion payout currently being litigated in New York. In his proposal, shareholder John Leonard, a California native and a publisher of books on 9/11, pointed to reports that building WTC 7 apparently collapsed by demolition, and for no plausible reason related to the 9/11 attacks. Management replied that it relied on official US government reports which made no mention of such evidence.
The Allianz Group is incorporated in Germany and has approximately 570,000 shareholders. Under German Stock Companies law, publicly held companies are required to publish shareholder proposals that meet certain criteria.
The full text of the proposal can be read at the bottom of our original posting of this report here .
Is it possible that Allianz have indeed looked into these claims and are withholding any more pay outs partially due to these factors?
If so there may be a secret to this insurance battle that Silverstein properties and certainly the federal government would not want to expose. This is certainly an interesting possibility and a case we shall be keeping close watch on.
Paul Joseph Watson contributed research to this report.